Pir-o-Murshid was one day travelling in the train and there came some gay young people, boys and girls, who were making all sorts of jokes among themselves. Looking at the appearance of the Murshid and thinking 'he is a foreigner, he will not know the language,' they fully joked and laughed and made all sorts of funny remarks, which Murshid also enjoyed very much. In order to know whether Murshid knew the language, one of them spoke to him in English, but as Murshid answered in Hindustani, they found the platform free for jokes.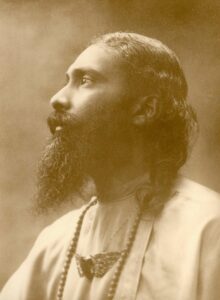 After some time, suddenly Murshid took off his hat to rest his head back freely, and looked at the two people sitting in the corner, and the girl gently spoke to her boy. "It is the head of Christ," and the boy seriously said, "Right you are." A third person said, "Heaven knows who this man is; is he an Indian, or a Greek, or a Romanian?" His girl said, "Whoever he is, he seems to be a thoroughly good man."
This remark changed the atmosphere of the whole compartment. Their joking mood turned to the mood of admiration, and as each moment passed, they felt more and more weighing on them some presence which perhaps throughout their life they had never realised, and in time it became so heavy that gaiety did not seem to exist in that sphere. The girls became absorbed in looking at Pir-o-Murshid in perfect bewilderment and the boys entirely speechless and spellbound. In this way their spirit, soul and body were held in suspense until the station of Murshid's destination arrived, when he left them all with a bow.