Murshid sometimes had the greatest fun about people's attitude.
In San Francisco there was a waiter who aways became very confused while serving Murshid, very hurried and red and shaken. Perhaps Murshid's priestly appearance impressed him so much.  Murshid used to address him as 'beta lal', 'my red son,' which augmented his confusion.
One day Murshid said, "Do you not wish to confess with me, beta lal?"
"Another day, Sir," the man said, and got away as soon as he could.
* * *
A mureed mentioned  an enormous amount of wealth, which would mean the fulfilment of a great wish Murshid fostered at the moment.
He said, "May I offer it to you?"
Murshid said, "No, thank you."
* * *
Someone told about his perilous adventures when, in a small canoe, he had followed the course of the Colorado river through the Grand Canyon in Arizona, along places which no human being had ever ventured to cross.
Murshid was asked whether such experiences bring man closer to his soul's realisation.
Murshid said, "It only stimulates his false ego."
* * *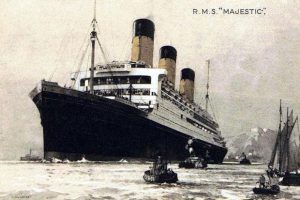 Once Murshid ws sitting on the deck of the 'Majestic' while sailing from New York to Cherbourg. There were several children running around and shouting so wildly that there seems to be a hundred of them, although there were only four or five. One of the little boys passed in a run before the chair where Murshid was sitting.  He suddenly stopped and became silent and thoughtful.  Then, with longing eyes, he asked, "Are you a King?"
Adapted from Rays
Kismet Dorothea Stam