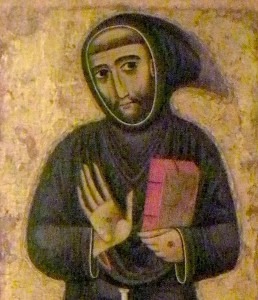 Now in December many are preparing to celebrate the festival of Christmas through innumerable customs involving worship, display, behavior and food. If one looks with careful insight, one can see that within every form there is a grain of truth, a mystical meaning around which the visible has condensed, although very often those who follow the custom are unaware of that life-providing source, and even sometimes act against it. For the spiritual seeker, it is a useful discipline to search for the inner meaning, especially in the forms for which we feel no attraction.
One very widespread Christmas custom is the portrayal of a humble stable with figures of the holy family, angels, shepherds, kings bearing gifts, and of course mild-eyed animals. These may be small displays in a home or, artistically lit and serenaded with carols, life-sized constructions in some corner of a church or public place. What is not so well known, perhaps, is that the first such representation of the nativity was created by St. Francis of Assisi, nearly eight centuries ago.
This custom makes visible a sacred story, but we can throw more light on the inner intention by considering the life and spirit of St. Francis himself.
This devoted soul abandoned everything to live as his Master lived; Francis believed that as the Christ had lived in poverty, therefore he must also give up every earthly possession. Poor though he was, if he met someone on the road who had nothing, he would say, "Here is my cloak. It was only borrowed from you, but now you need it; I return it to you." His complete renunciation was the perfection of the same path adopted by the wandering dervish (or 'poor man') of the east.
Francis demonstrated the desire, well-known to the Sufi, to reflect the Guide and not to be a follower of the follower of the follower; in other words, to erase himself and make his beloved Master a living, present reality. He pursued this ideal so strongly that his body at last received the marks of the stigmata, the first known instance of this sign of attunement.
With this in mind, we could see that the representations of the nativity scene are not merely intended to instruct us as to the 'events' of this sacred history; the humble image is also an invitation to participate in the story through our own lives. Life is a play upon the stage; can we play the part that is offered to us? Every birth is the birth of divine consciousness on earth; all of nature, from the humble to the exalted, celebrates the potential realization of the One implicit in the newborn, helpless and innocent baby.
And, to paraphrase the Master Jesus, when we become like such a newborn, it is then that we will truly be fit to enter the divine kingdom.